Sample Event


Join us on sample date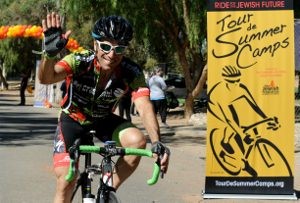 Tour de Summer Camps is just around the corn
er!
Anything and everything you need to know about the day of the event is listed below.
Contact Us!
As always, feel free to reach out to us if we can be of further assistance! We would love to hear from you.
Call: (323) 761-8013 or Email:
info@tourdesummercamps.org
Event Date:
Sunday, October 30, 2016
Start Times:
7 a.m.
–
Century
(100-mile) Riders and
Metric Century
(62-mile) Riders
9 a.m.
–
36-mile
and
18-mile
Riders
All times are approximate and may change pending weather announcements.
Location:
Tour starts and ends at Camp Alonim on the Brandeis-Bardin Campus of the American Jewish University, 1101 Pepper Tree Lane
,
Simi Valley, CA 93064
Directions and Parking:
Plenty of parking is available for all riders. Please see the maps below for your designated parking location on the day of the event.
Click here to map driving directions to Camp Alonim
,
or see directions below: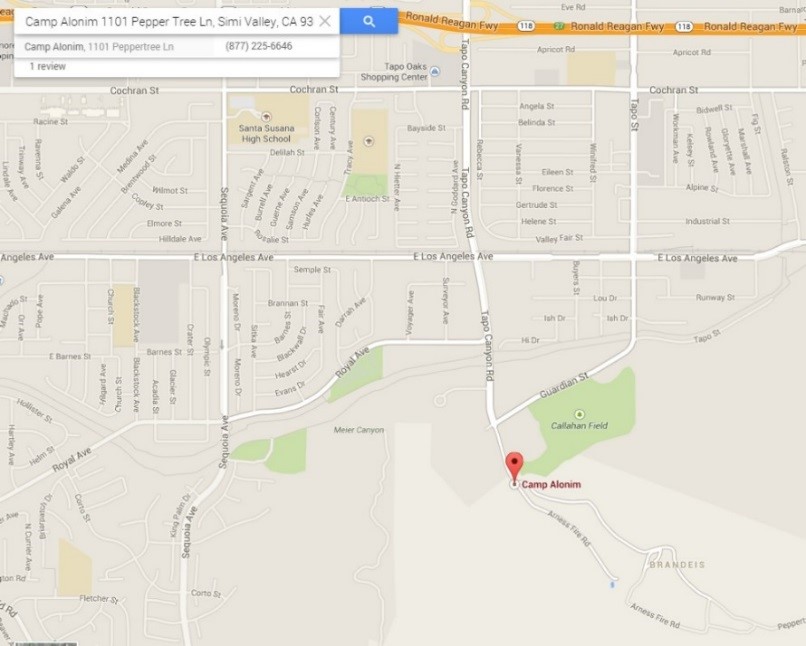 From Los Angeles Area:
Take the 405 Freeway NORTH or the 5 Freeway NORTH to State Route 118 Freeway (Ronald Reagan) WEST.
From Ventura/Santa Barbara Area:
Take the 101 Freeway to State Route 23 NORTH to State Route 118 Freeway EAST.
All Directions from State Route 118:
Take State Route 118 toward Simi Valley to Tapo Canyon Road. Exit Tapo Canyon Road and turn SOUTH. Continue on Tapo Canyon Road past Cochran Street, Los Angeles Avenue, Royal Avenue and Guardian Street to the front gates of our property.
Century
and

Metric Century

Riders:
Please use the
4100 Guardian Street parking lot
at the corner of Tapo Canyon Road and Guardian St.
36-mile
and
18-mile
Riders
:
Please drive onto the American Jewish University campus to park. You will be directed by volunteers to an assigned parking lot.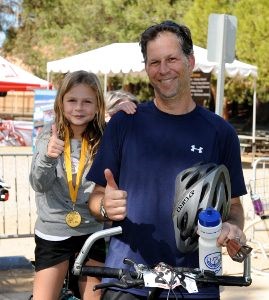 Preparation
and Safety:
Tour is open to all riders 16 years of age and up. Each rider must be in sound health for the chosen route. Riders under 18 must have the written consent of a parent or guardian. All riders will have to complete a waiver.
Rules of the Road:
Bicycles are vehicles under the California Vehicle Code and you are subject to all the rules and regulations of that code. Obey all traffic laws, traffic signals and signs. Ride as far to the right as is safely possible and travel single-file. Riders that do not follow these rules may be subject to City or County fines.
At a minimum, all riders
must
arrive to Tour de Summer Camps with
bike, helmet*, and appropriate cycling gear
. We also strongly recommend:
Base layer for cool mornings
Bike shoes
Sunglasses
Sunscreen
Water Bottle
*Helmets
are absolutely required at this event and must be worn at all times while on the bike. They also need to be in good working order and meet current CPSC or ASTM helmet codes.
Please click here for information on Helmet Safety.
Tune Ups:
All bikes should be tuned up at a local bike shop before being transported to Simi Valley for the ride. Helen's Cycles mechanics will be on hand for minor tweaks and assistance. They will not, however, be able to perform complete tune-ups. Bikes should arrive to Tour de Summer Camps in proper working order (brakes, shifters, etc.) and should be cleaned/lubricated.
Hydrate:
Remember to drink plenty of water and electrolytes throughout the weekend!
What if I want to ride but don't have a bike?
You may be interested in renting a bike, or purchasing one from Helen's Cycles, the official bike shop for Tour de Summer Camps.
Check-In:
Rider registration will open at 5:30 a.m. Please allow enough time to pass through security check, register, eat breakfas
t, and find the start line before the ride begins. At registration, a friendly Tour de Summer Camps volunteer will check you in and give you your rider packet*, swag bag, and fundraising awards!
Before the start of the ride, you may also want to change into your jersey or athletic wicking T-shirt (wear them proudly!), and check any personal items at bag-check.
*Rider Packets will include: bike numbers with wire ties to hang the number on your bike, wrist bands, and route cue sheet. Each rider must wear his or her wristband which is printed with the Tour hotline number for route assistance. The color of the band corresponds to the selected route signage and provides entry to rest stops and a post-ride lunch.
Century – Blue
Metric Century – Green
36-Mile – Red
18-mile – Yellow
Routes:
Be our friend on
Strava
to see detailed route information!
View the official Tour de Summer Camps Strava club profile
or search the site for "Tour de Summer Camps."
Routes are subject to change due to unforeseen issues with weather, road construction, or permits.
Maximum Time:
All courses close at
5 p.m.
On The Route:
Mechanical Assistance and SAG:
A mechanic will be stationed at the start of the ride as well as at each Rest Stop along the course to assist with any mechanical issues. SAG (Support and Gear) vehicles will be roving the course to take riders to the finish line. This ride is fully supported, and assistance will be available for all riders who need it.
Medical Assistance:
If you are involved in or witness a medical situation on the route,
call 911
. For minor first aid needs, all Rest Stops and Route Vehicles are equipped with first aid supplies and Emergency Medical Technicians (EMTs).
Please use the Tour hotline number (213) 537-5491, printed on your wristband for route assistance if you cannot make it to the next rest stop.
Nutrition:
Kosher Breakfast:
No one rides hungry! Join us for a delicious Kosher Breakfast from 6 a.m. to 9 a.m.
Rest Stops:
We'll have fully stocked and staffed rest stops at strategic locations along all courses. These will be noted on the map and cue sheets, which will be given to you on Sunday morning. The following nutritional items will be available: water, GU and Skratch Hydration Mix, GU Gels, Skratch Fruit Drops, Larabars, peanut butter, fruit, and trail mix. All items are Kosher.
Metric Century and Century Riders:
We suggest drinking at least 16 oz. of water every hour and eating at least every 45 minutes. Please bring any additional nutrition that you may need on the course.
Post-Ride Kosher Lunch:
Join us at the finish line for a hot Kosher lunch! Lunch starts at 11 a.m. for all riders and will remain open until 4 p.m. Century riders will also have a mid-ride lunch stop at mile 60, located at Pacifica High School.
Self-Care and Wellness:
Pre-Ride Warm-Up Sponsored by Zooz Fitness
Zooz Fitness provides wellness and fitness for people of all abilities. One on One sessions are designed specifically for each client, based on his/her individual need and overall fitness goals. These sessions are developed and tailored to meet each client where they are, capitalizing on their strengths and also targeting areas where they want to grow. Zooz Fitness instructors will be leading a motivating and energizing warm-up for 18 and 36 mile riders at the start line!
Post-Ride Yoga Sponsored by Pico Union Project
Reward yourself at the finish line by seizing an opportunity to stretch your body after a long ride, still your mind, and nourish your soul! Your participation in Tour de Camp is a phenomenal way to take care of others and should be paired with time and space to exercise self-care. Join fellow riders for a short yoga practice on your way to lunch starting every half hour for anyone interested regardless of previous experience. These special sessions are sponsored by the Pico Union Project, a multi-faith, multi-cultural center near Downtown Los Angeles grounded in the principle to "love your neighbor as yourself." Instructors include Zach Lasker, PUP executive director and former camp director at Ramah California, and other Jewish camp alumni.
Namaste!
Post-Ride Massages Sponsored by HAND & HAND Mobile Massage
Originally from Reno, NV, Tom has lived in Simi Valley for over 20 years. His education and administrative experience includes over 10 years as a Certified Massage Therapist in California. He is the owner and sole proprietor of HAND & HAND Mobile Massage where he and his team provide in-home and office massage services throughout Ventura and Los Angeles Counties. Thomas Saulnier: 805.501.2011
Still haven't registered?
It's not too late!
Fundraising Requirement:
Each rider must raise a minimum of $500 so that we can send as many children in Los Angeles as possible to Jewish summer camps. You can do it! Our amazing Fundraising Specialists WILL HELP YOU GET THERE! Contact one today at
info@tourdesummercamps.org
or (323) 761-8013 with any questions.
What happens if I don't raise the required $500?
If you have not raised the required $500 before Tour de Summer Camps on October 25, you can decide to:
Pay the remainder of the funds on your own and join us on the ride!
Participate as a "Virtual Rider" (see below) and know that the funds you have raised will go to support camp scholarships for children who need them.
You have until November 18 to reach the $500 minimum. Join us on the ride and make the commitment to keep fundraising until the deadline. Remember, we'll do all that we can to help you get there!
Fee:
Your non-refundable registration fee of $45 reserves your spot to ride and comes with an expert fundraising coach to help you reach your goal.
Cancellation Policy:
No refunds or transfers are available.
Virtual Rider:
Fundraise and show your support wherever you are! Virtual Riders are those who would like to participate but either: 1) cannot ride on October 30; 2) do not meet the age requirement; or 3) are unable to fundraise $500. There is no fundraising minimum for those who select this option, but all are encouraged to raise funds to help send as many kids as possible to Jewish summer camp. Virtual Riders are also welcome to come to Camp Alonim on the day of the ride to cheer on friends and family and attend the post-ride festivities!