Sample Event


Join us on sample date
More to come for the 2019 Tour de Summer Camps soon! Please check back in for updates!

Check out the 2018 Tour de Summer Camps Event Photos
HERE!
Click
HERE
to view the 2018 Athlete Confirmation and event info for Riders
Click
HERE
to view the 2018 Athlete Confirmation and event info for the Cycle at Camp!
Contact Us! As always, feel free to reach out to us if we can be of further assistance! We would love to hear from you.
Call: (323) 761-8013 or Email: info@tourdesummercamps.org

Event Date: To be determined. Please check back for updates!

Start Times: 7 a.m. – Century (100-mile) Riders and

Metric Century

(62-mile) Riders
9 a.m. – 36-mile

and 18-mile

Riders


9:30 a.m.

- 1st Cycle at Camp Session


10:30 a.m.

- 2nd Cycle at Camp Session
11:30 a.m. - 3rd Cycle at Camp Session

All times are approximate and may change pending weather announcements.



Location:

Tour starts and ends at Camp Alonim on the Brandeis-Bardin Campus of the American Jewish University, 1101 Pepper Tree Lane, Simi Valley, CA 93064

Directions and Parking: Plenty of parking is available for all riders. Please see the maps below for your designated parking location on the day of the event.
Click here to map driving directions to Camp Alonim, or see directions below: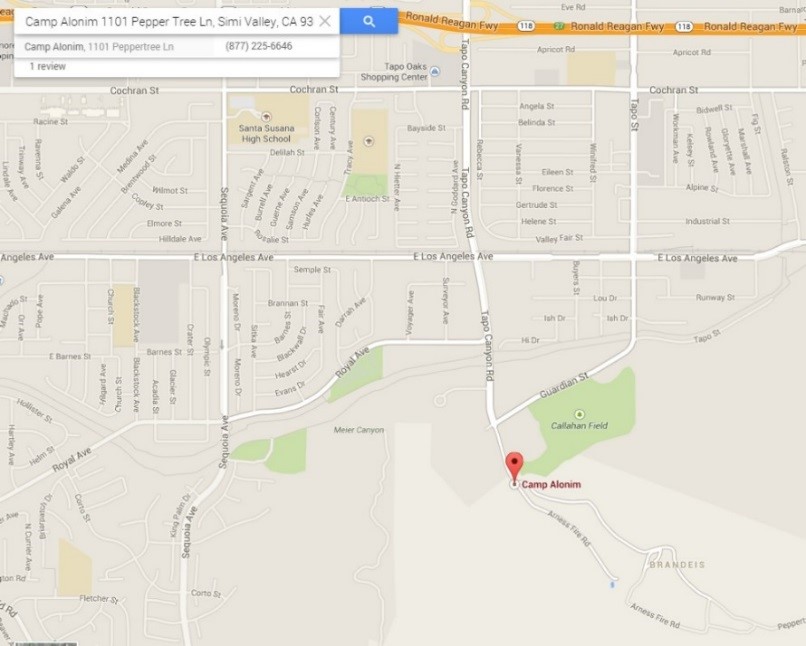 From Los Angeles Area:
Take the 405 Freeway NORTH or the 5 Freeway NORTH to State Route 118 Freeway (Ronald Reagan) WEST.

From Ventura/Santa Barbara Area:
Take the 101 Freeway to State Route 23 NORTH to State Route 118 Freeway EAST.

All Directions from State Route 118:
Take State Route 118 toward Simi Valley to Tapo Canyon Road. Exit Tapo Canyon Road and turn SOUTH. Continue on Tapo Canyon Road past Cochran Street, Los Angeles Avenue, Royal Avenue and Guardian Street to the front gates of our property.

Century and

Metric Century Riders: Please use the 4100 Guardian Street parking lot at the corner of Tapo Canyon Road and Guardian St.



36-Mile

and

18-mile

Riders: Please drive onto the American Jewish University campus to park. You will be directed by volunteers to an assigned parking lot.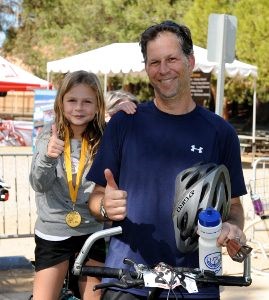 Preparation and Safety:

Tour is open to all riders 16 years of age and up. Each rider must be in sound health for the chosen route. Riders under 18 must have the written consent of a parent or guardian. All riders will have to complete a waiver.

Rules of the Road: Bicycles are vehicles under the California Vehicle Code and you are subject to all the rules and regulations of that code. Obey all traffic laws, traffic signals and signs. Ride as far to the right as is safely possible and travel single-file. Riders that do not follow these rules may be subject to City or County fines.

At a minimum, all riders must arrive to Tour de Summer Camps with bike, helmet*, and appropriate cycling gear. We also strongly recommend:
Base layer for cool mornings

Bike shoes

Sunglasses

Sunscreen

Water Bottle

*Helmets are absolutely required at this event and must be worn at all times while on the bike. They also need to be in good working order and meet current CPSC or ASTM helmet codes. Please click here for information on Helmet Safety.

Hydrate:

Remember to drink plenty of water and electrolytes throughout the weekend!



Check-In:

Rider registration will open at 6:00 a.m. Please allow enough time to pass through security check, register, eat breakfast, and find the start line before the ride begins. At registration, a friendly Tour de Summer Camps volunteer will check you in and give you your rider packet*, swag bag, and fundraising awards! Before the start of the ride, you may also want to change into your jersey or T-shirt (wear them proudly!), and check any personal items at bag-check.

*Rider Packets will include: bike numbers with wire ties to hang the number on your bike, wrist bands, and route cue sheet. Each rider must wear his or her wristband which is printed with the Tour hotline number for route assistance. The color of the band corresponds to the selected route signage and provides entry to rest stops and a post-ride lunch.
Routes:

Routes are subject to change due to unforeseen issues with weather, road construction, or permits.

Maximum Time: All courses close at 5 p.m.

On The Route:

Mechanical Assistance and SAG: A mechanic will be stationed at the start of the ride as well as at each Rest Stop along the course to assist with any mechanical issues. SAG (Support and Gear) vehicles will be roving the course to take riders to the finish line. This ride is fully supported, and assistance will be available for all riders who need it.

Medical Assistance: If you are involved in or witness a medical situation on the route, call 911. For minor first aid needs, all Rest Stops and Route Vehicles are equipped with first aid supplies and Emergency Medical Technicians (EMTs).

Please use the Tour hotline number
805-582-4491
, printed on your wristband for route assistance if you cannot make it to the next rest stop.

Fundraising Requirement:

Each participant must raise a minimum of $500 for ages 30 and over, $250 for those ages 16 to 29, so that we can send as many children in Los Angeles as possible to Jewish summer camps. You can do it! Our amazing Fundraising Specialists WILL HELP YOU GET THERE! Contact one today at info@tourdesummercamps.org or (323) 761-8013 with any questions.

What happens if I don't raise the required minimum?
If you have not raised the required minimum before Tour de Summer Camps on October 28, you can decide to:
Pay the remainder of the funds on your own and join us on the ride!

Participate as a "Virtual Rider" (see below) and know that the funds you have raised will go to support camp scholarships for children who need them.
You have until November 17 to reach the minimum. Join us on the ride and make the commitment to keep fundraising until the deadline. Remember, we'll do all that we can to help you get there!
Fee:



Your non-refundable registration fee reserves your spot to ride and comes with an expert fundraising coach to help you reach your goal.

Cancellation Policy: No refunds or transfers are available.



Virtual Rider:



Fundraise and show your support wherever you are! Virtual Riders are those who would like to participate but either: 1) cannot ride on October 28, 2018 2) do not meet the age requirement; or 3) are unable to meet the fundraising minimum. There is no fundraising minimum for those who select this option, but all are encouraged to raise funds to help send as many kids as possible to Jewish summer camp. Virtual Riders are also welcome to come to Camp Alonim on the day of the ride to cheer on friends and family and attend the post-ride festivities!